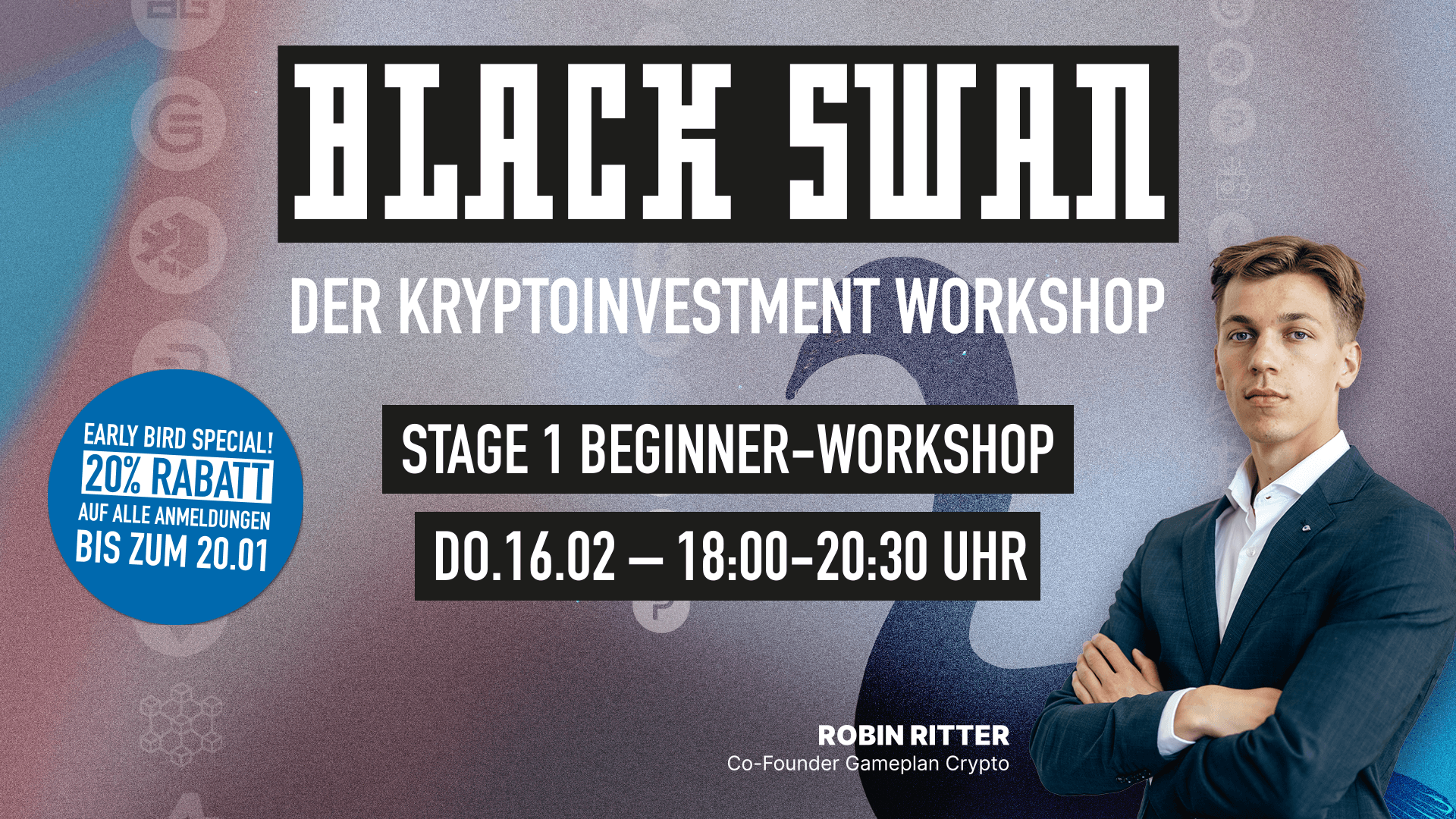 Black Swan – The Crypto Investment Workshop (Stage 1)
73
73 people viewed this event.
FTX Scandal? Crypto price on a rollercoaster ride? Negative headlines about cryptocurrencies? And you're still keen on crypto – but you'd like it to be safe and low-risk? How to invest in cryptocurrencies seriously and without luck is explained to you step by step by professional crypto investor Robin Ritter in his workshop "Black Swan". What you learn:
Safe exchanges to buy cryptos (not FTX).
How do serious investment models in cryptocurrencies work?
How do cryptocurrencies work exactly?
Which ones are there and who are the big players in the market?
How do cryptocurrencies fit into a conservative portfolio?
How do I keep my cryptocurrencies safe?
NFTs: What is the future of digital art?
Other opportunities in the crypto world
We will discuss these and other questions together with Robin Ritter. Robin will then explain to you how you can shape and expand your portfolio with crypto investments using practical examples. You will learn what opportunities and risks the different categories offer.
Your speaker
Robin Ritter is Co-Founder of Gameplan Crypto and advises international clients on their investment strategies. At our workshop, you will have the opportunity to meet him in person and learn first-hand what the crypto market has to offer.
What else
Bring along: Your laptop.
No previous knowledge is required for the workshop.
Maximum 20 participants.
The ticket price includes the following
Participation in the interview and Q&A session with Robin Ritter.
Participation in the 60-minute crypto workshop.
2 non-alcoholic drinks from the Betaphase range.
Snacks & canapés from the Betaphase kitchen.
How your experience is planned
17:30: Admission and get together.
18:00 – 18:45: Session #1.
18:45 – 19:00: Break.
19:00 – 19:30: Session #2.
19:30 – 20:30: Networking and Q&A.
What happens after that?
Stage 1 (the "crypto investor" workshop) is the first part of a series that will build up from beginner to crypto investment expert. Subscribe to our newsletter and stay tuned for the next workshops.