What would you like?
The Innovation Hub where the coffee never runs out
You have learned to always stay on the pavement, to always follow the signs and rather follow the others. But life doesn't happen on the pavement, but in the hidden alleys, behind the edges of the world.
A little story about this:
One morning Georgios accompanied his daughter to the centre of Cologne. As they took a different route than they were used to, they discovered something that was to change Betaphase forever: a vacant premises. Tenants wanted. In the centre of Cologne. The timing was phenomenal, because the growing Betaphase team needed space for more people and their ideas.
But there was a catch: the space had to be gastronomically operated. "Is that actually a catch?" echoed the partners.
A coworking café by day and an innovation hub by night. Why not actually? Betaphase Café was born. A physical location of a brand that had previously operated in the digital. And all because someone had lost their way.
I can't go on without a portafilter
We are a collective of agency founders, freelancers, digital nomads and employees, a wild mix of friends and partners. We are united by the finer things in life: Espresso fresh from the portafilter, conversations with depth and fibre-optic internet.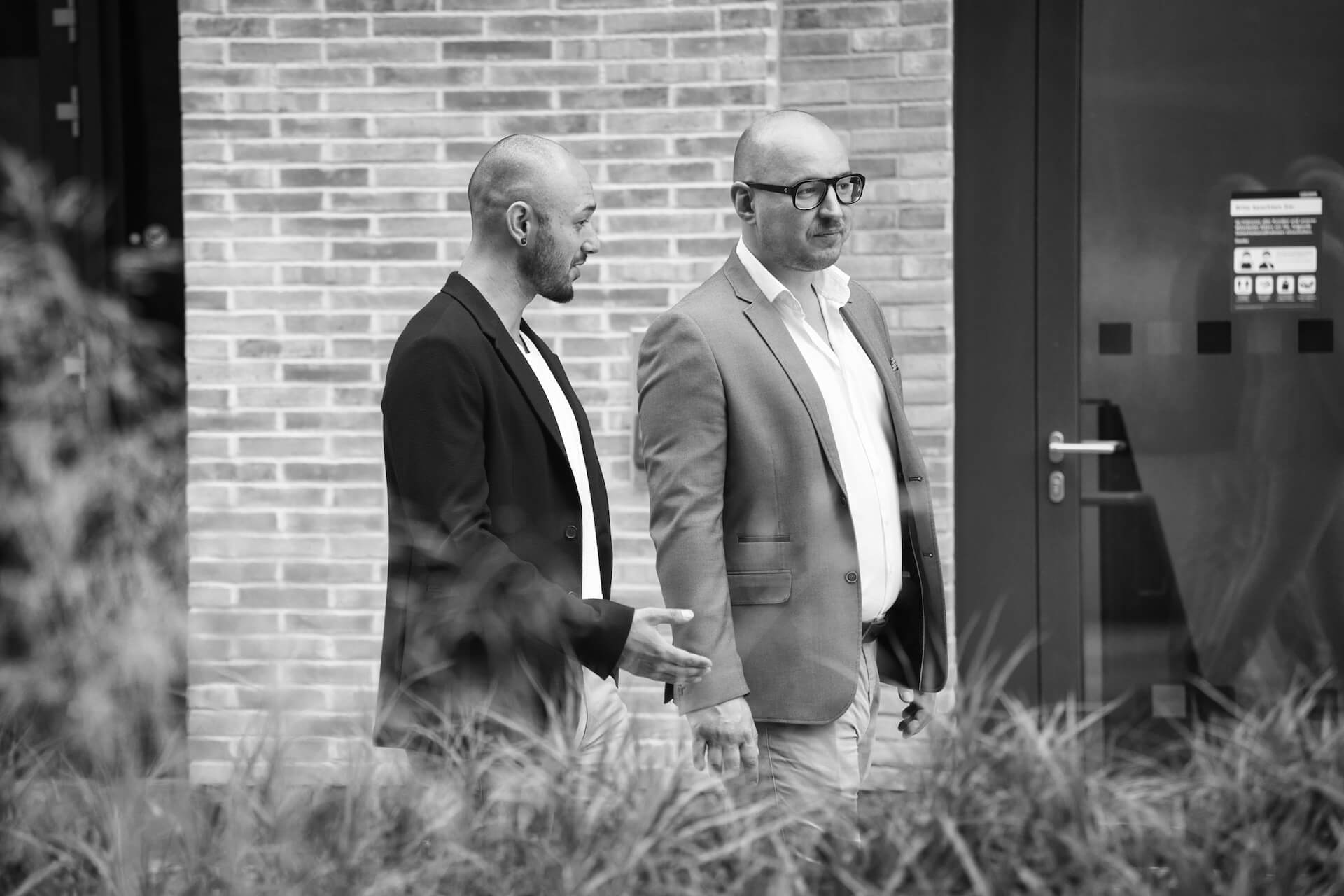 Hi. Georgios Pavlakoudis here.
We haven't met yet. But I would like to change that. I started this magazine for people like you. People who are hungry for new input and need innovative topics like the air they breathe. Okay, I also write this magazine a little bit for myself.
Every day I learn new things that I need to get out of my head and onto paper. Much of it I share with my clients in my daily interactions, but I also want to reach out and accompany you. In what? In the innovation of your business.
By now we know that this transformation needs a lot of creative know-how, but also so much more. If we mindlessly follow every trend, we will lose our arms and legs and thus deprive ourselves of any room for manoeuvre.
Innovation is not a product that someone can sell you for a fixed price. It IS a constant process. Even battleships like Apple and Amazon tirelessly turn every adjusting screw within their organisations.
What do companies and entrepreneurs do to be so successful? They read a lot. Let's go on a journey together.
Fun facts
They sometimes call me G.
I am impatient.
I am patient.
I live in extremes.
Every Sunday I cook the best spaghetti carbonara in Cologne.
I bought an Apple Watch and use it to read the time.
Between my desk and the bedroom is my two children's playground.
Hello, Patrick Santa Maria is my name.
Do you know what it's like to think about so many things that your thoughts roll over and crash? Like any accident, it doesn't look pretty. To counteract my head carousel, I write out thoughts. Sometimes even downright opinions on a subject.
Yes, first and foremost I write for myself. Because it helps me to evaluate and sort out my own thoughts. That is bitterly necessary, because my focus is on new work. It's sooo much and there's always something new coming in. Trends, best practices, opinions from thought leaders and what they are all called. There are gems in there, but also a lot of bullshit. I can't tell you what is bullshit for you, but at least what smells to high heaven for me. And what has rosy prospects for me.
You read something and disagree? Great! Then send me a message on the channel of your choice. I love sharing. So say hi.